09.18.2020
NOR-RAL, Inc Receives Elite Supplier Award for 2019 from Lockheed Martin Aeronautics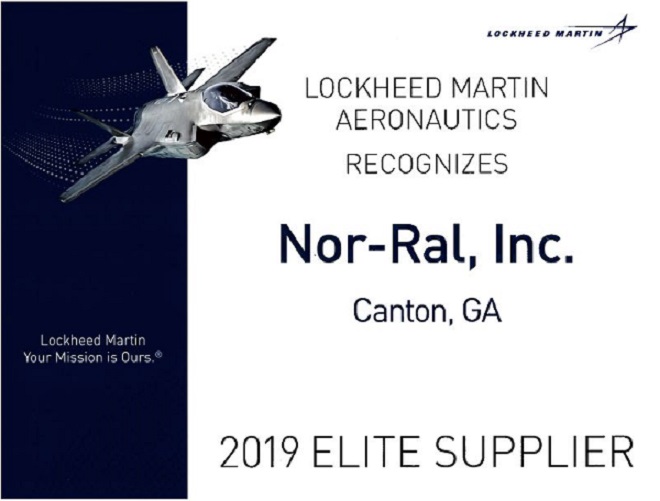 Canton, Georgia, 9/17/2020 – Lockheed Martin Aeronautics Company has named Nor-Ral Inc. an Elite Supplier, representing the top one percent of a supply base of more than 1,400 suppliers. The prestigious award comes as a result of Nor-Ral's contributions to the C-130J Super Hercules and the F-35 Lightning II programs. Lockheed Martin recognized 20 small and large businesses who consistently provided outstanding support and high-quality parts while delivering on time in 2019.
"All of us at Nor-Ral are extremely honored to receive this recognition," states Matt McWhorter, Nor-Ral President. "The Nor-Ral team embodies our commitment to supporting the national defense industrial base, working tirelessly to ensure customer expectations are not just met, but exceeded in every component that leaves our facility. I am thrilled that our team's dedication has been recognized by such a key partner as Lockheed Martin."
Nor-Ral has been an integral supplier to Lockheed Martin Aeronautics for over 25 years and continues that tradition through the production of composite structures, assemblies, and precision machined components in support of the C-130J, F-35 and F-16 programs.
"Congratulations to NOR-RAL for earning Lockheed Martin's 2019 Elite Supplier Award. It's companies like yours that help the United States military remain the most elite military in the world." stated Congressman Barry Loudermilk (R-GA). "Georgia's 11th Congressional District is proud to have you as an integral part of the success of our men and women in uniform."
Nor-Ral was recognized with the Elite Supplier Award based on a variety of factors, including delivering reliable, quality parts, products and services on time and at competitive prices; the alignment of supplier's values with Lockheed Martin values; and their track record of proactively solving problems. With over five straight years of 100% on time delivery, this award is a repeat honor for Nor-Ral, who also received the Elite Supplier Award in 2016.
About Lockheed Martin
Headquartered in Bethesda, Maryland, Lockheed Martin is a global security and aerospace company that employs approximately 110,000 people worldwide and is principally engaged in the research, design, development, manufacture, integration and sustainment of advanced technology systems, products and services. For additional information, visit our website: www.lockheedmartin.com.
About Nor-Ral
Based out of Canton, Georgia, Nor-Ral is a manufacturer of composite structures, assemblies, and precision machined components that employs over 50 people. Serving the aerospace, aviation, and industrial industries since 1971, Nor-Ral continues to assist a variety of clients with their unique needs for parts and tooling by blending "large business" capabilities and expertise with the flexibility and responsiveness of a "small business".